Inloggen
Als u een account bij ons heeft, meld u dan aan.
Dont have an account? Registreren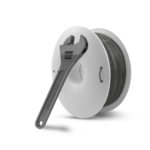 Impact PLA filament
Weerstand en precisie
IMPACT PLA is a tried and tested filament for printing functional prototypes and large heavy-duty tools.
IMPACT PLA biedt eigenschappen die vergelijkbaar of beter zijn dan die van ABS filamenten terwijl het gemak en de veiligheid van het printproces typisch zijn voor traditionele PLA.
Dit technische filament zorgt voor een verhoogde weerstand tegen barsten en breken door een hoge impactsterkte en een hogere weerstand tegen hoge temperaturen.
Met deze eigenschappen is IMPACT PLA ideaal voor het maken van veeleisende prints die werken in extreme omstandigheden met behoud van het hoogste niveau van aandacht voor detail. 
IMPACT PLA is een beproefd filament voor het printen van functionele prototypes en grote zware gereedschappen.